Marketing Tip: Improving Your Blog or Social Media Channel's Performance through Content Calendars
Marketing Skill Level: Easy
A content calendar, also referred to as an editorial calendar or publishing schedule, is a tool for planning and organizing the content you need to produce over a certain period: weekly, monthly, quarterly, or yearly.
Calendars cover a wide range of content from blog articles and social media updates to slideshares, podcasts, videos, infographics, case studies, and e-books.
Why Build a Content Calendar?
Your team needs a content calendar for the following reasons:
It saves time and energy.
Your team becomes more efficient when you assign who should do what until when. It also encourages the production of quality content because you factor in the editing time for written or audiovisual work. Moreover, calendaring content prevents redundancies because the calendar allows you to view all the output your team will generate.
It inspires collaboration and accountability.
The calendar shows exactly when each content production stage must be completed. Because it can be viewed by everyone, team members get an overview of what's before and ahead of them, making them fully aware of their role in the big picture.
Using content calendars helps you publish with regularity because expected output and deadlines are visually plotted out. Since calendars let you quickly review all your past output, you can check how proposed ideas or upcoming assignments support your brand voice.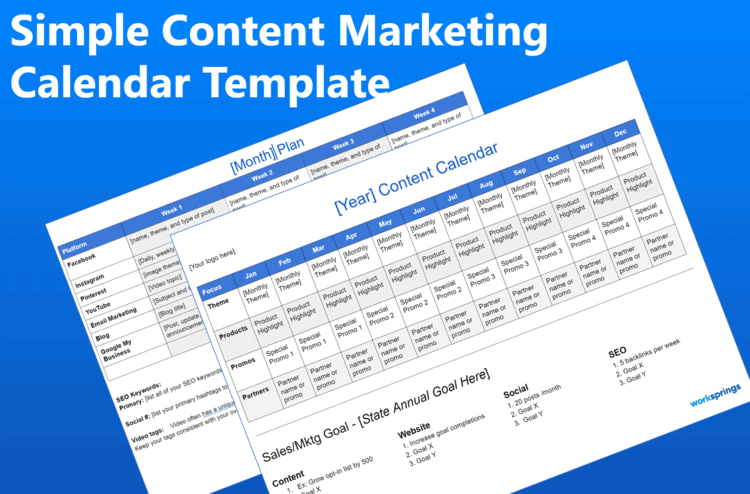 How to Build a Great Content Calendar
Design your content plan.
Knowing the demographics (age, gender, and so on) and psychographics (personality, lifestyle choices, aspirations, and challenges) of your target audience will help you create a buyer persona, or a representation of your ideal customer, to tailor-fit messages and choose the most effective platforms to reach these audiences.
Your team can create a buyer persona for your brand by brainstorming with your sales and customer service departments. You can also conduct surveys and questionnaires, use analytics, or tap the services of a third-party.
Choose a platform or project management tool.
While solo bloggers only need an Excel spreadsheet or Google Calendar, content marketing teams can use a more collaborative system (Airtable, Asana, Basecamp, Coschedule, Slack, Trello, and Loomly) that schedules each step of the creation process.
Your chosen program will distribute tasks, assign deadlines, and specify where and when content will be published.
Schedule content ahead of time and get feedback.
Most content marketers advise scheduling one to six months in advance with some room for flexibility.
You need to consider the following when plotting timelines:
The size of your team: Ensure that you have enough people and resources to handle what's on your publishing schedule. List down the steps for creating each type of content, plot them in your calendar, then name the people responsible for completing each step.
Platform: Facebook and Instagram help business-to-consumers (B2C) firms engage with their customers and gain visibility online. Meanwhile, LinkedIn helps provide the personal connection needed by business-to-business (B2B) companies.
Audience engagement: Study your web and social media analytics to know when your site or social media network gets the most visits and publish or release content during these peak times. Make an audit across different platforms and see which type of content (video, podcasts, or others) attracts the most attention.
Check what your competitors are doing.
See how you can leverage your content to match those of your competitors. Visit their websites and social media pages to see what they've uploaded and posted. Study how often they publish new content and how their readers are engaging. Create new content to amplify or provide new information about a topic your competitor may have missed.
Now it's your turn to get started. Go to this link for a free starter template. It's a Microsoft Word document you can download. Add sections or columns to suit your specific needs.
Creating new marketing habits can be hard. Call us at 206-487-4530 if you have questions and need a little help getting started.
Update:
One of our clients asked us for help with a simple content marketing calendar to keep their content across social platforms and channels consistent. Here's a simple Microsoft Word document template you can download and use for free.
Download your content marketing template.
If you need it in a different format, give us a call and we'll help you put it together.