Marketing Skill Level: Easy
Effort Required: Less than 10 minutes
Reward: Integrating Facebook Recommendations in your business page engages your customers even after their they've tried out your product or service. It also piques the interest of your prospective clients.
---
Reviews and recommendations go a long way in promoting your business to prospective customers, especially in a social media platform like Facebook. In fact, 33% of Facebook users use the platform to look for reviews and recommendations, while 66% visit the page of a local business at least once a week (Facebook, 2020).
Recommendations give interested customers more information about your business while also providing a credible and unbiased review, which people are more likely to trust. Statistics show that 90% of customers read online reviews on businesses before visiting and 84% of these people trust these reviews as much as a personal recommendation (Forbes, 2017).
To help you get started, we've put together this quick guide on setting up Facebook Recommendations on your page.
Setting Up Facebook Recommendations on Your Business Page
If you've already enabled Reviews before, then this feature has been automatically turned on. If not, and this is your first time to do this, you can turn on this feature on your desktop in 3 easy steps.
Go to your business page and click on the Page Settings tab located at the top of the page.

2. Under page Settings, click on Templates and Tabs.

3. Scroll down the Tabs section until you find the Reviews tab and click on the rectangle beside it.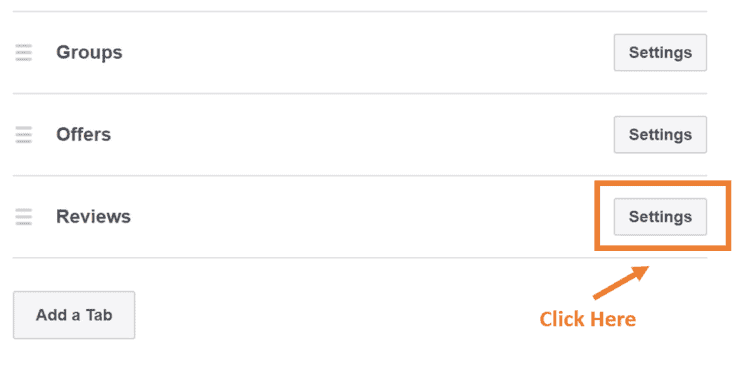 And there you have it: Facebook Reviews and Recommendations is now enabled on your page.
If you're on your mobile, you can set it up by following these steps:
Go to your business page and swipe left on the tabs located just below your business name until you get to More.
Clicking More leads you to a list. Scroll down until you find Page Controls and click on Edit Page.
Click on Tabs.
Click Add a Tab.
Scroll down until you see Reviews and click on the plus sign beside it.
Make Your Business Appear as a Recommendation on Maps
With the previous steps, you've enabled reviews and recommendations to your business page. However, you can actually do more than that by adding a bit more information and with a few clicks. Businesses that have a physical address and location have the additional option of appearing on maps when someone asks for a Recommendation within the area:
Go to your business page and click on the Edit Page Info tab located near the bottom of the left pane.
Check your business category under Categories if it's accurate.
Scroll down and input your business address under Location.
Click on the checkbox below the map that says Customers visit my business at my street address. This will enable the map to appear on your business page.
Facebook rolled out updates to make it easier for people to recommend businesses to their friends. One of these updates is letting people comment to posts asking for Recommendations with relevant Pages and posting their locations on a map. By following the steps above, you can take advantage of this feature and enhance your business' visibility on Facebook.